I probably don't need to tell you that San Jose is a very popular place to live, but you might be surprised to learn it's the largest city in the Bay Area by population. While it started out as a small farming community, it overtook San Francisco as the place to live in the Bay Area in the 1990s and is often called the Capital of Silicon Valley.

The more popular a place becomes, of course, the more people—and less space—there is. In response, people devise creative solutions for creating extra room—like converting a garage into a guest bedroom, TV room, or home office. But what happens when all you really want is an actual garage?
A recent client of mine faced just such a dilemma. He'd purchased a home with a garage that had been converted into a beautiful bedroom. The problem? His retirement hobby—car restoration—required garage space for all of his tools and equipment, not to mention cars. The solution? Convert the garage-turned-bedroom back to its original form, adding custom cabinetry to keep everything organized.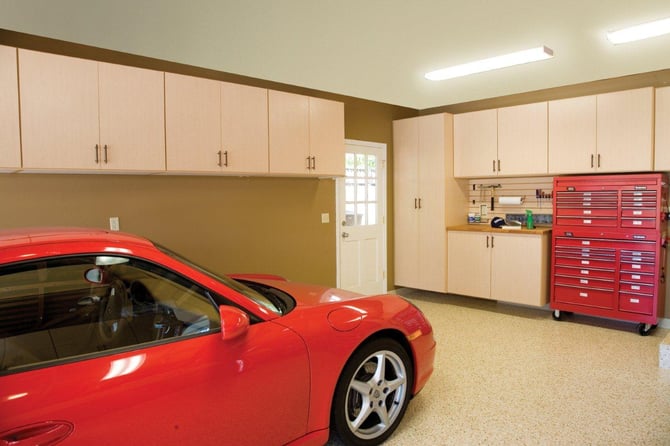 An organized garage is a happy garage.
Image source: Valet Custom Cabinets & Closets.
Behind Closed Doors
Even if you aren't dealing with a previous garage conversion, many people are unable to use their garage to store one or two cars because it's storing their stuff instead. Without adequate storage, all of those things that can't find a home inside your home gradually migrate to the floor of the garage instead. Before you know it, your cars are parked outside at the mercy of the elements, and a mountain of your belongings sits gathering dust behind forever-closed garage doors.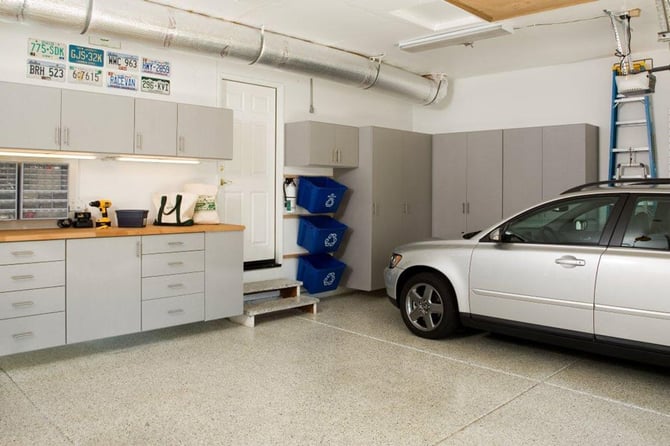 High cabinets give you storage and space to move around.
Image Source: Valet Custom Cabinets & Closets
Cabinets are a great way to add storage and organization to your garage while still making room for your car(s). Short cabinets are handy for seasonal storage like holiday decorations, and can be placed high on a side wall, up and out of the way until their time of the year comes around again. Placing the cabinets above the height of the car makes it easy to get in and out of your vehicle while utilizing all of your vertical space.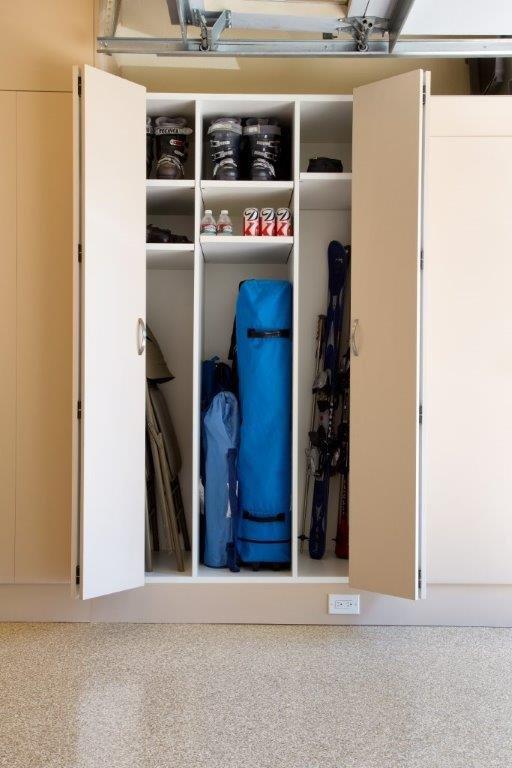 Storing your ski gear together makes for a quick weekend getaway.
Image Source: Valet Custom Cabinets & Closets
Tall cabinets (with optional bi-fold doors) work well for outdoor gear like camping supplies, skis, golf clubs, and sports equipment. Smaller items like golf gloves and extra tees can go into drawers, while shelves are perfect for organizing specialty shoes, like golf cleats, basketball shoes, or ski boots. Our 1" thick shelves are adjustable as well as sturdy, meaning there's always room (and support) for just about anything you're looking to store.
Most importantly, cabinet doors keep your stored stuff clean and dust-free.
Tool Time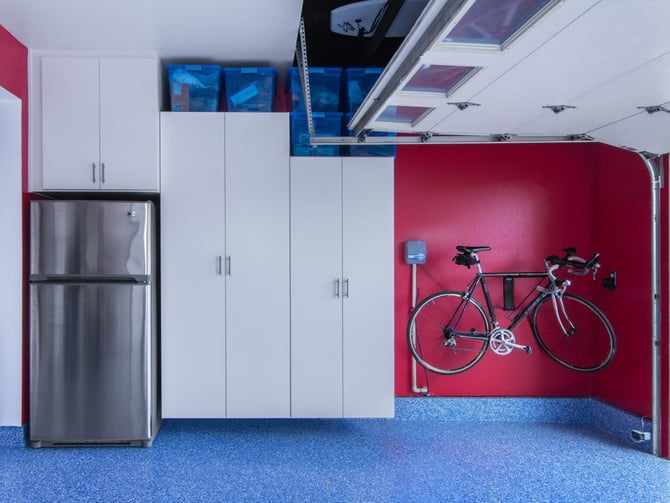 Storing your bike off the floor protects both your bike and your car.
Image source: Valet Custom Cabinets & Closets
Adding hanging storage with slat walls, broom clamps, and hooks on either side of your car gives you organization space that would otherwise likely go to waste. Rakes, brooms, or vacuums—anything that's normally left balancing against walls or lurking in corners, waiting to fall over and trip someone up—can be hung up and out of the way alongside other walking hazards like wrapped extension cords, hoses, bikes, and ladders.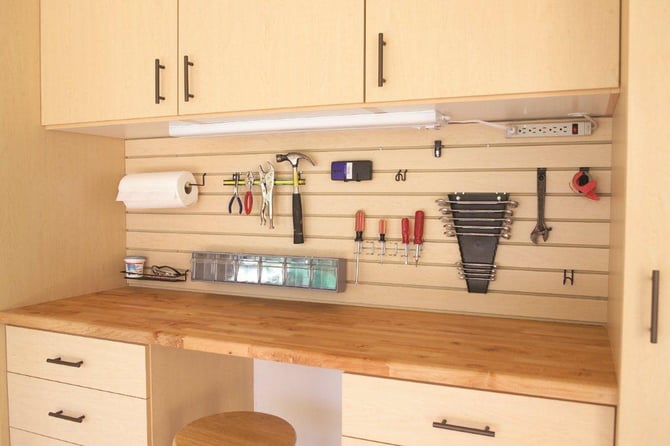 Slat walls are easy to customize to fit your needs.
Image Source: Valet Custom Cabinets & Closets
If you have too many tools for just one section of slat wall, I'd suggest a pull-out tool caddy. These are a great way to organize hammers, screwdrivers, drills, and other gadgets by project, type, or size. A custom caddy can be crafted to fit in whatever garage space you have available, without taking up too much room, and will keep tools easily accessible, secure, and out of sight when not in use.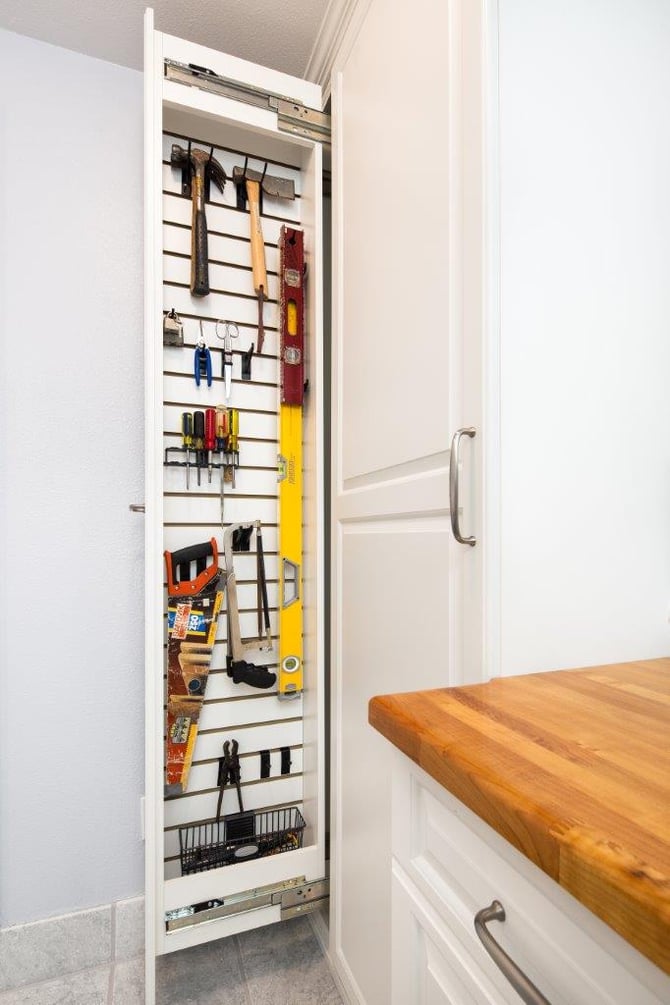 A pull-out tool caddy is a great way to organize a larger tool collection.
Image Source: Valet Custom Cabinets & Closets
Counter space makes it easy to work on small or large projects—and if you need more space, we can always add a slide-out table top. Adding workbench lights and choosing a finish that fits your tastes (as well as your space) helps make your workspace work for you.
Drawers are another great place for organizing any tools or supplies that you might need for your projects. If you have nicer tools you'd like to keep safe and secure, you can add locks to your drawers for extra peace of mind.
From The Bottom Up
If you're going through the trouble of making your garage neat and organized, we can help you get your floor looking just as nice. Beautiful epoxy flooring provides a strong and durable floor coating that protects your floor from chipping, stains, and abrasions. There are several different color options to choose from, so you can finally branch out from the usual concrete-with-oil-stains look in favor of a floor that's both more practical and more pleasing to the eye.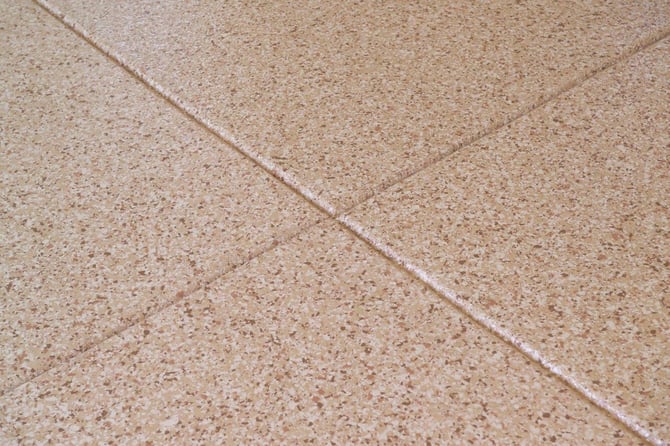 Epoxy flooring—because people will be able to actually see your garage floor now.
Image Source: Valet Custom Cabinets & Closets
Whether you're like my client and dealing with converting a garage back into a garage or simply in the process of taking back control of a wild and cluttered storage space, we're here to help. Get in touch with us today to get started on an organization system that can get your stuff off the floor and your car back where it belongs—in the garage!
---
Valet Custom Cabinets & Closets designs, manufactures and installs custom organizational solutions that enhance the functionality of your living space while complementing the décor of your home.
Our talented design team creates unique solutions tailored to your specific needs, style, and budget. We are independently owned and a direct manufacturer.
Our areas of specialty include Home Offices, Wall Beds, Media Centers, Closets, Pantries, Garage Cabinetry, and much more.
Exceptionally Designed & Styled * Expertly Crafted with 5-Star Execution
---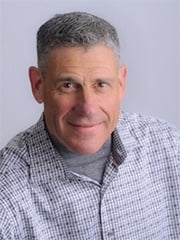 About Larry Fox, President
Larry is a graduate of the University of Southern California School Of Business. After receiving his degree he returned to the Bay Area and spent 18 years working in his family's 100+ year old metals recycling business. Upon the sale of that business in 2000, Larry and his wife Audrey purchased Valet. Larry has become a leader in the industry and is a past president of the National Closet Group. Larry loves turning people's dreams into reality, and remains as enthusiastic about the business today as he was when he first acquired it. View Larry's Houzz Page.