South of San Francisco, at the northern edge of Silicon Valley, San Mateo is perfectly placed to attract folks exhausted by a tight housing market (and I mean perfectly placed—it's got a wonderful sunrise view of the Bay). With more affordable real estate and a great school system, it's no wonder many young couples look to San Mateo when they start thinking about families. The problem is that the rolling front lawns and spacious living rooms of their dreams aren't always a reality.
Houses in San Mateo tend to be in the 13,000-15,000 square foot range. If you're starting a family, you might need to get creative with your space. That spare room can turn into a nursery, but as your child gets older, you may need to repurpose the room to serve a changing range of needs. Fortunately, custom cabinets and closet systems can help define the space through all stages of your child's development. With the right furniture, your spare room can serve as many rooms, always functional, beautiful, and comfortable as your child grows. It just takes the right planning.
The Right Furniture for a Nursery and Beyond
So what does it take to turn a spare room into a nursery? Let's start with the reach-in closet.
One of the first things you'll notice about your new baby is that they have little need for formalwear—so hanging rods aren't in high demand. But you'll still want a closet system that provides other types of storage. I'd suggest plenty of drawers for diapers, spit clothes and onesies, with pull-out wire storage bins to house toys and spare bottles in easy reach. We can also install shelving for larger equipment, like milk pumps. You may want to consider a few upgrades for the sake of your own sanity, as well—go ahead and add a charging station for your iPad: you're about to spend a lot of sleepless nights next to the crib.
We've designed plenty of closets, so we may also be able to offer solutions to problems you haven't thought of yet. Consider trying to reach into the closet when your baby is sleeping: you don't want to turn on bright lights, but knocking over a pile of toys in the dark isn't much better. To get around this, we've created several nursery closets with soft LED lighting, letting you see without waking the baby. And, once your child gets older, they've got a built-in nightlight.
Transitioning to a Child's Room
.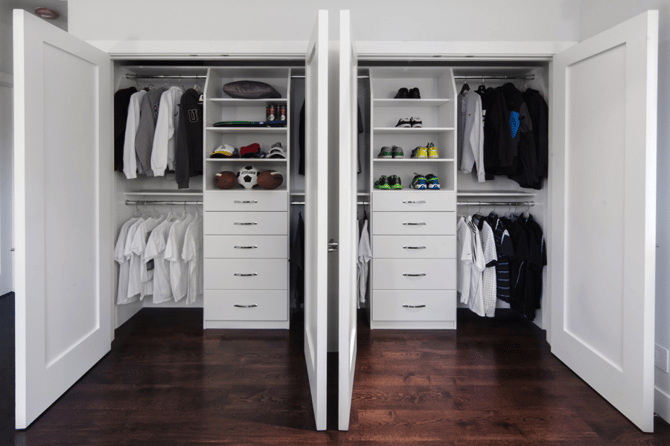 If you have two kids, a divided reach-in closet
becomes even handier
.
Image from Valet Custom Cabinets & Closets.
As your baby gets older, the need for diapers decreases—and they start to have more stuff of their own. While you might not need hanging rods for an infant, now's when they begin to come in handy. If you're thinking ahead, we can design a stacked set of hanging rods for your closet—the lower hanging area can be used by your child now, and they can grow into the upper one as they get older and their wardrobe expands.
Adjustable shelving is also helpful here—you can move shelves down once your child hits preschool or kindergarten, letting them reach their own toys. Kids this age are learning to be independent, and by providing a closet that fits your child (instead of forcing them to struggle against an adult-sized room), you're creating a sense of agency, ownership—and maybe even responsibility. After all, it's easier for your child to help pick up their belongings when they can reach the shelves and the laundry hamper.
Fitting in a Workspace
A long-term benefit of a well-organized reach-in is that it frees up space in the rest of the room. Shelves and drawers in the closet let you do without a huge dresser. This leaves space for something your child will eventually need: a custom desk and workstation.
Kids start using computers early these days, especially in the Bay Area's often-competitive school system, so by the time your child enters elementary school, they'll be ready for a workstation. A custom design will fit the room—and their needs—perfectly. With enough drawers and shelves to store their books and supplies, and a design that lets cords easily reach power outlets, you can help them get started on the right foot. A dedicated workspace is a great boon for their academic performance.
Being a parent means creating a design for your child's life—but giving them the space to grow. In a small way, I believe quality custom furniture helps you work toward this goal. It gives your kids the tools they need to succeed and can adapt and grow with them, from their first steps to their first year of college. At Valet Custom, our furniture fits your home and your life. Connect with us today, and we'll help you design a space for your growing family.
---
Valet Custom Cabinets & Closets designs, manufactures and installs custom organizational solutions that enhance the functionality of your living space while complementing the décor of your home.
Our talented design team creates unique solutions tailored to your specific needs, style, and budget. We are independently owned and a direct manufacturer.
Our areas of specialty include Home Offices, Wall Beds, Media Centers, Closets, Pantries, Garage Cabinetry, and much more.
Exceptionally Designed & Styled * Expertly Crafted with 5-Star Execution
---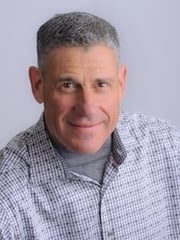 About Larry Fox, President
Larry is a graduate of the University of Southern California School Of Business. After receiving his degree he returned to the Bay Area and spent 18 years working in his family's 100+ year old metals recycling business. Upon the sale of that business in 2000, Larry and his wife Audrey purchased Valet. Larry has become a leader in the industry and is a past president of the National Closet Group. Larry loves turning people's dreams into reality, and remains as enthusiastic about the business today as he was when he first acquired it. View Larry's Houzz Page.