Renovating a home isn't a vacation for most folks, but a client I worked with in the Willow Glen area of San Jose was more stressed than usual. She was going through a remodel of a gorgeous Colonial Revival built back in the mid-1900s. The house needed updates, of course, but she'd also purchased it with her second husband. Once the remodel was done, they would be moving in together with all of their kids—and sharing a closet for the first time.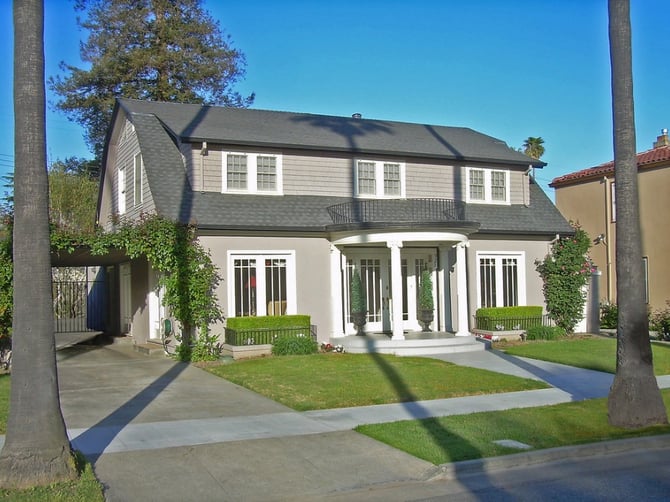 Willow Glen's varied architecture includes a number of Colonial Revival homes.
Image source: David Sawyer via Flickr
He and she had both spent many years as single parents, with master bedrooms and closets all to themselves. Neither could imagine parting with their wardrobes, but all the spare rooms and closets were needed for the kids. They were willing to make compromises but weren't sure how, and their move-in date was looming.
A Clear Game Plan
The first step when sharing a closet is figuring out what actually needs to be stored there. Plenty of folks keep things in their bedroom walk-in that would be more functional elsewhere:
Shoes. My Willow Glen client was in the habit of kicking off her shoes as soon as she walked in the door. If that's the case, you can create space in your bedroom by installing a shoe rack in your hall closet and shifting your entire collection there instead.
Seasonal clothes.

Rarely-worn items like bathing suits or ski gear for winter trips to Lake Tahoe shouldn't take space away from the clothing you actually wear on a weekly basis.
Delicate clothes.

Are you in the habit of hanging everything? Chances are you own at least a few things that would last longer in drawers, like stretchy sweaters.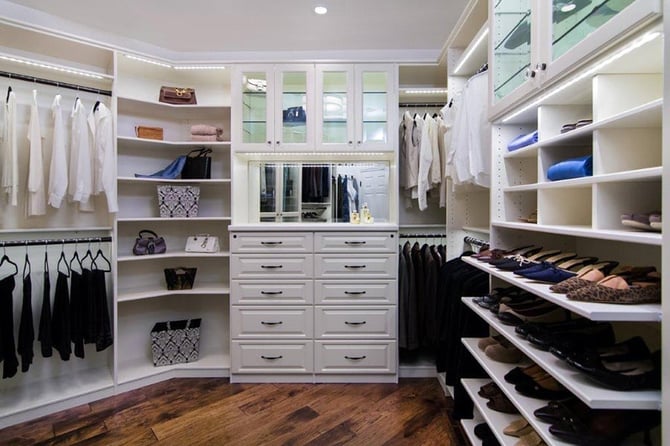 If space is tight, drawers can be more efficient than hanging rods.
Image from Valet Custom Cabinets & Closets.
You should also keep your individual preferences in mind, for the sake of both organization and maintaining the peace. The client in question preferred to hang things, while her husband preferred to fold. A closet design featuring minimal shelf space but lots of drawers and hanging rods seemed like the perfect compromise.
Utilizing Garage or Basement Space
If, after removing special occasion items like ski gear from your closet, you haven't a clue where to keep them, consider adding custom storage cabinets to your detached garage or basement.
Custom design makes it pretty simple to create hanging space in your garage for coats or add drawers for mittens, hats, and long underwear. You can even throw in a bank of shoe shelves by the entry door for daily-use shoes like sneakers and sandals.
If you've got basement space instead, I'd suggest a freestanding closet or external wardrobe. Pull-out drawers and tall cabinets can provide organized storage while adding visual appeal. I've known several clients whose new basement wardrobes inspired them to transform the entire area. A basement can be more than just a place to store excess stuff—with a little customization, it can become a family den or even a secret lair for sleepovers.
Custom design means you can have space for shoes, off-season clothing, and even a workbench.
Image from Valet Custom Cabinets & Closets.
Using Wall Space Efficiently
Now that you've narrowed down your collective closet collection to just the items that belong, it's time to organize—starting with wall space. While long dresses and full suits require a lot of clearance when hung, more space-efficient rows of stacked hanging rods can be used for everyday items like shirts, skirts, and pants.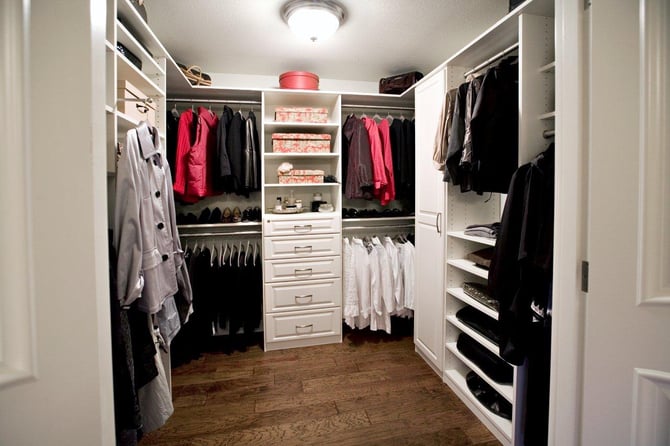 Stacked hanging rods are a great way to save space for clothes that need to be hung.
Image from Valet Custom Cabinets & Closets.
Each partner's personal quirks should also be taken into consideration, of course. For large handbag collections, we can install purse hooks along the wall behind the door to your closet, keeping them in easy reach when you need to grab one before rushing out the door—without sacrificing shelf space.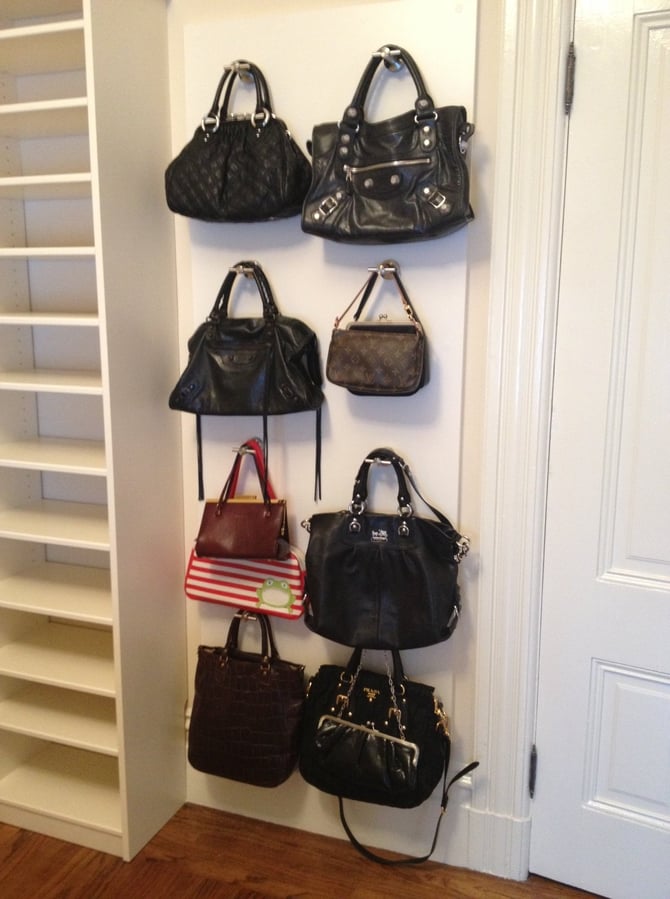 A purse collection doesn't have to take up a lot of room.
Image from Valet Custom Cabinets & Closets.
Similarly, adding slide-out tie racks is a great solution for anyone whose tie collection is threatening to get out of hand. These allow you to organize and even color coordinate your ties without rummaging through a tangled heap in a drawer—you'll know exactly where to look.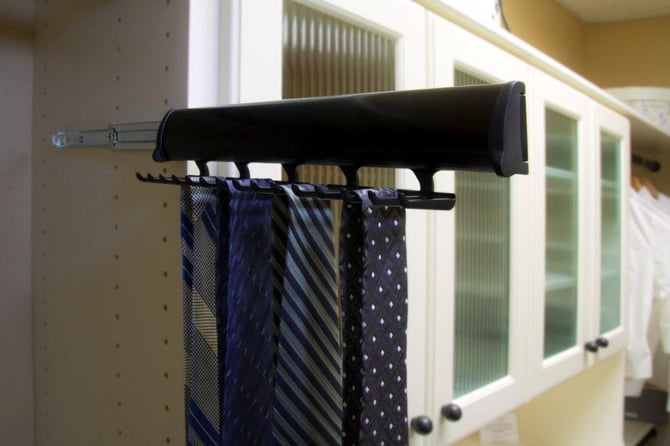 An elegant way to keep ties organized.
Image from Valet Custom Cabinets & Closets.
Who says the first year of marriage is the hardest? I think it's when you have to share a closet that the gloves really come off. If you need a little help with the transition, get in touch with us! We'd be happy to help find solutions that work for both of you—and for your new closet.
---
Valet Custom Cabinets & Closets designs, manufactures and installs custom organizational solutions that enhance the functionality of your living space while complementing the décor of your home.
Our talented design team creates unique solutions tailored to your specific needs, style, and budget. We are independently owned and a direct manufacturer.
Our areas of specialty include Home Offices, Wall Beds, Media Centers, Closets, Pantries, Garage Cabinetry, and much more.
Exceptionally Designed & Styled * Expertly Crafted with 5-Star Execution
---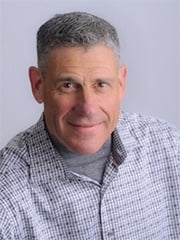 About Larry Fox, President
Larry is a graduate of the University of Southern California School Of Business. After receiving his degree he returned to the Bay Area and spent 18 years working in his family's 100+ year old metals recycling business. Upon the sale of that business in 2000, Larry and his wife Audrey purchased Valet. Larry has become a leader in the industry and is a past president of the National Closet Group. Larry loves turning people's dreams into reality, and remains as enthusiastic about the business today as he was when he first acquired it. View Larry's Houzz Page.