I always take a little extra time to clean up when I know I'll be in Blackhawk. It doesn't matter whether I'm in Hidden Oaks or Silver Maple—each neighborhood is so beautiful and well-kept that it can be hard to tell where the country club fairways end and the private homes begin. And it's not just the houses. My Blackhawk clients all seem to have an eye for fashion. They're the type of folks who know the difference between mauve and magenta and could tell you what skin tones go best with each.
If you like to hit up the boutiques at Blackhawk Plaza and love trying on new outfits, maybe it's time to turn your own walk-in closet into a dressing room, complete with all the amenities you need to look your best.
Assemble Your Outfit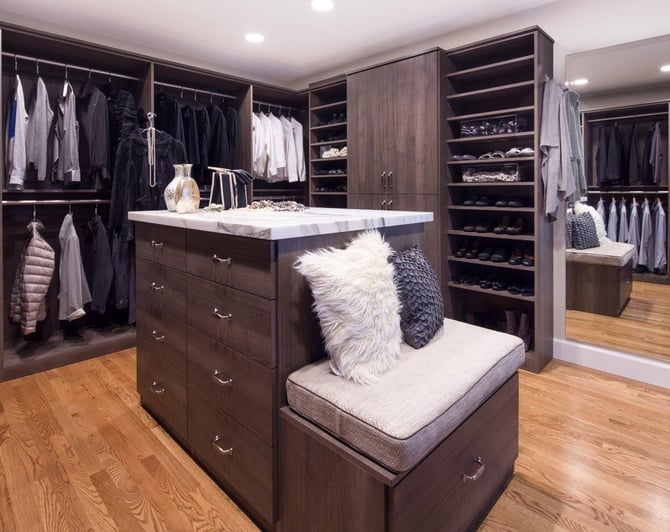 A center island with built-in seating turns this closet into the perfect spot to get ready.
Image from Valet Custom Cabinets & Closets.
A good dressing room serves as a staging area where you can plan your entire ensemble before putting anything on. How to achieve this? I'd suggest starting with a center island. You can use the flat surface to examine skirts and blouses side-by-side or as a spot to line up your accessories before you dress, and the space also makes a great display area for a tabletop hat tree or your favorite knickknacks. We can add velvet-lined drawers beneath to store and display your jewelry.
Next, consider installing some valet rods. If you're at Apricot Lane trying to decide on an outfit, you might hang it up and take a step back to scrutinize it. Valet rods let you cast the same eagle eye over clothes at home.
Make Yourself Comfortable
You want your combined closet and dressing room to be inviting so that you can try on outfits in a relaxed atmosphere.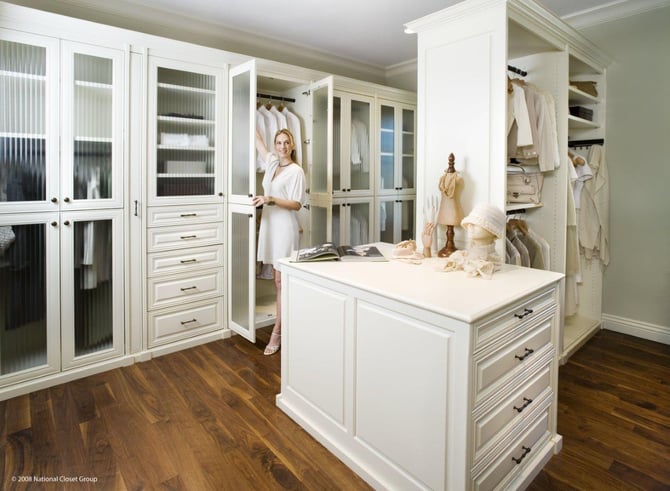 Relax and make yourself at home.
Image from Valet Custom Cabinets & Closets.
A seating area is a great way to achieve this. We can add standalone bench seating or simply create a custom layout that leaves room for chairs. Not only is this convenient for putting on shoes, it lets other people join you for a second (or third) opinion. Invite your girlfriends over, turn on some music, crack open a bottle of AuburnJames cabernet, and get ready together in style.
You'll also want to consider space-saving ideas that prevent your walk-in from feeling too cramped. We can open up floor space by adding slide-out racks for scarves and belts, pull-down hanging rods that make the most of wall space, or even a spiral hanging bar to optimize awkward corners.
The Finishing Touches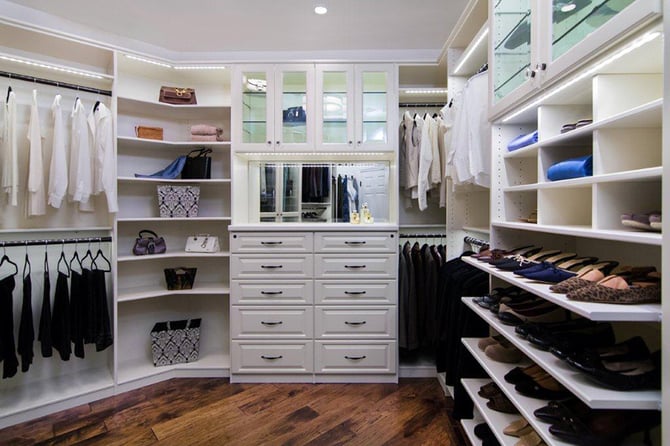 A custom design helps ensure every detail is just how you want it.
Image from Valet Custom Cabinets & Closets.
No truly deluxe walk-in closet or dressing room is complete without mirrors. In addition to making the room feel more spacious, they let you examine every last detail of your appearance. Consider adding mirrored cabinet doors that, when opened, will give you a multi-angle view of your appearance.
If your walk-in is large enough, you might also want to add a custom vanity table. This lets you take care of hair, makeup, and perfume in the same location and makes it easier to match lipstick shades or hair clips with the rest of your ensemble before you begin dressing.
Create a Personalized Dressing Room
If you enjoy the ritual of picking out the perfect outfit and tending to every detail so that you look your absolute best, a few closet upgrades can help you do so in the style and comfort of your own dressing room.
I've shared a few ideas, but there's no substitute for professional input and a customized design. Get in touch with us today, and one of our designers will work with you to create a dressing room that's as elegant as Blackhawk itself.
---
Valet Custom Cabinets & Closets designs, manufactures and installs custom organizational solutions that enhance the functionality of your living space while complementing the décor of your home.
Our talented design team creates unique solutions tailored to your specific needs, style, and budget. We are independently owned and a direct manufacturer.
Our areas of specialty include Home Offices, Wall Beds, Media Centers, Closets, Pantries, Garage Cabinetry, and much more.
Exceptionally Designed & Styled * Expertly Crafted with 5-Star Execution
---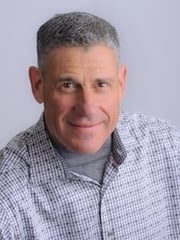 About Larry Fox, President
Larry is a graduate of the University of Southern California School Of Business. After receiving his degree he returned to the Bay Area and spent 18 years working in his family's 100+ year old metals recycling business. Upon the sale of that business in 2000, Larry and his wife Audrey purchased Valet. Larry has become a leader in the industry and is a past president of the National Closet Group. Larry loves turning people's dreams into reality, and remains as enthusiastic about the business today as he was when he first acquired it. View Larry's Houzz Page.