One of the best things about living in the East Bay is the relative ease of traveling to Tahoe for skiing on the weekends. Yes, you have to put on chains, deal with traffic slowdowns, and find your own parking—but when you can access a full day of fresh powder within just a few hours, I honestly don't know why you wouldn't pack up your boots and head north.
East Bay residents are heading out in droves to Tahoe for skiing/boarding this time of year. Snow is still abundant, and ski gear lives perpetually strapped to the rooftops of cars all over the area. However, when the cold finally breaks at the end of yet another ski season, there's a better way to store your gear: custom garage cabinetry.

Ski Storage Options That Protect Your Best Gear
If you're going to Tahoe every weekend when the powder is fresh, you probably have your share of skis and snowboards lying around. These items are thin but bulky, and tend to be a massive pain to store. Especially if you've shelled out for top-of-the-line gear, you don't want to be leaning your skis up somewhere in a garage corner.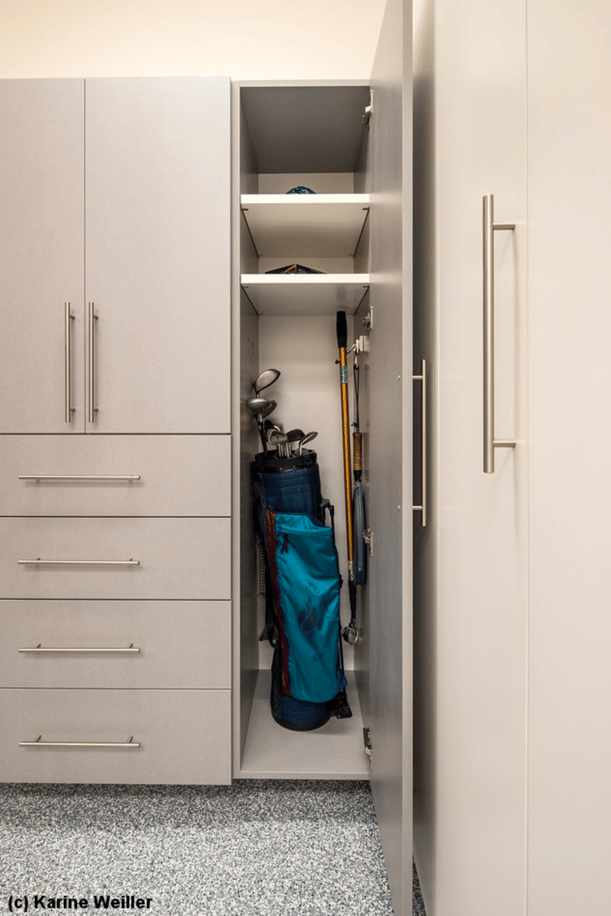 One solution is to store your skis and poles upright in garage cabinets. With a custom design, you can make each cabinet tall enough for your cambers and rockers—and all the hybrids in between. Plus, we can design a cabinet that's divided into vertical sections perfectly sized for the width of each pair of skis. It's all up to your organizational preference.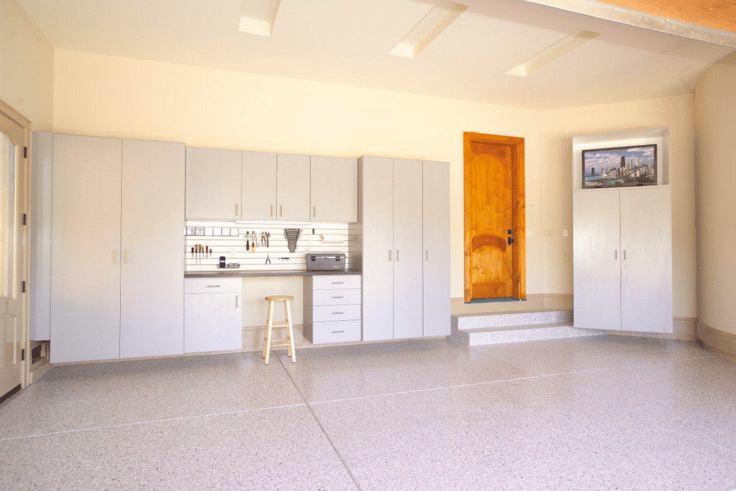 Another idea that I personally use involves the Omni Track wall storage system. I'd rather not rest my ski tips (or tails) on the ground, so I prefer to hang them vertically on my garage wall. This system saves a huge amount of floor space while keeping your skis solidly in place when not in use. Best of all, removing one pair won't disturb the others (no one wants to be buried under an avalanche of skis, after all). Each adjustable hanging mechanism is made of industrial-grade hooks that are specifically designed to get your items safely off of the floor—and display them in an artful, eye-pleasing arrangement.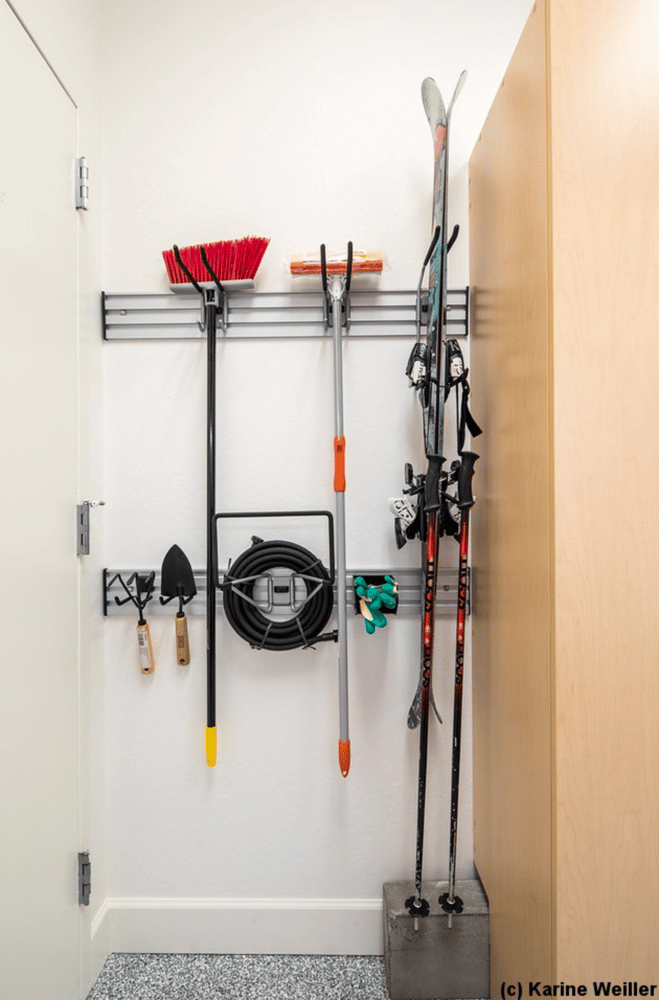 Making Space For The Small Things
When you're taking your own car out to the slopes each winter, it's likely that your entire vehicle will be full of your gear and accessories. From boots to helmets and coolers full of sustenance, you pretty much bring your entire garage with you when you head to Tahoe. Having cabinets specifically compartmentalized for each item makes the packing process that much smoother.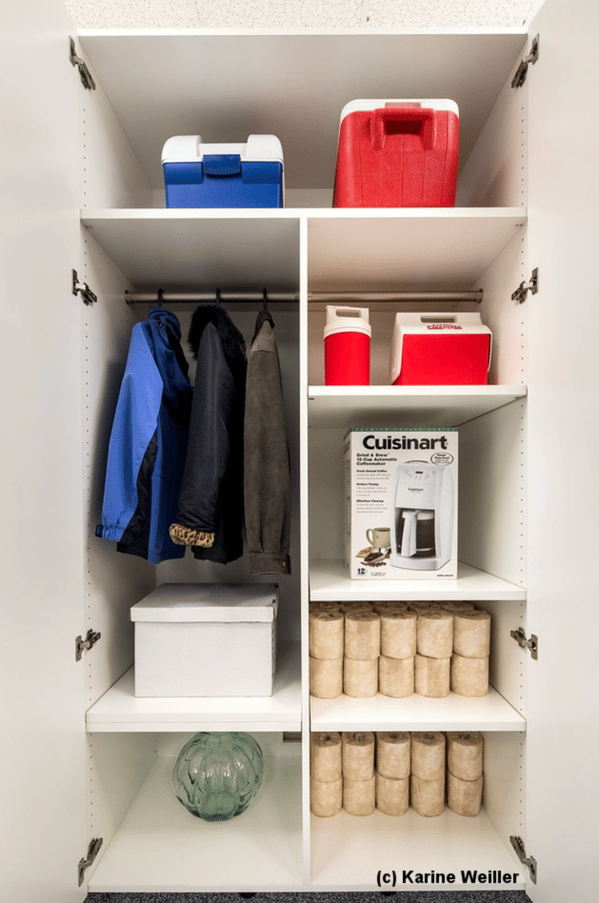 With removable shelving made from sturdy melamine, you'll be able to create the perfect sized compartment for each item you need to store. We can even include a hanging rod to give your ski pants and parkas somewhere to hang dry—plus, thermally fused laminates are incredibly easy to keep clean. A quick wipe down with a damp cloth will take care of any residual snow melt that you can't help but carry home with you.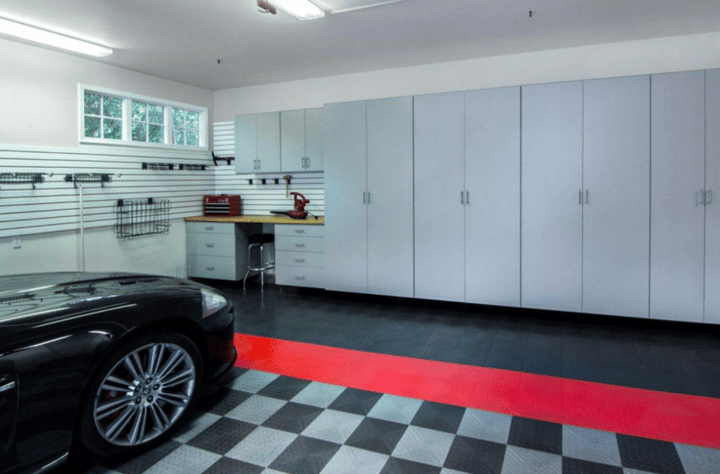 Perhaps the best part of creating a custom garage with specially-designed cabinetry is that you can create a whole new look for your space. Everything can be stored perfectly within cabinets that create a sleek facade, and you don't have to worry about your garage looking messy or chaotic. With custom cabinetry, you can finally have the winter adventure storage that your professional-level hobby deserves.
If you're ready to bring some of these design ideas to life in your own garage, schedule your free design consultation with one of Valet's designers. We're happy to work with you to accommodate your storage needs while debating the merits of our favorite slopes. Reach out to us today to start figuring out how to store your gear when Tahoe's season (sadly) comes to a close.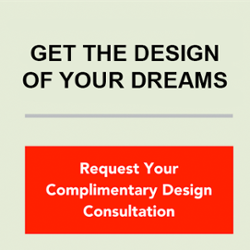 ---
Valet Custom Cabinets & Closets designs, manufactures and installs custom organizational solutions that enhance the functionality of your living space while complementing the décor of your home.
Our talented design team creates unique solutions tailored to your specific needs, style, and budget. We are independently owned and a direct manufacturer.
Our areas of specialty include Home Offices, Wall Beds, Media Centers, Closets, Pantries, Garage Cabinetry, and much more.
Exceptionally Designed & Styled * Expertly Crafted with 5-Star Execution
---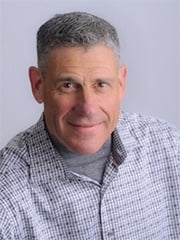 About Larry Fox, President
Larry is a graduate of the University of Southern California School Of Business. After receiving his degree he returned to the Bay Area and spent 18 years working in his family's 100+ year old metals recycling business. Upon the sale of that business in 2000, Larry and his wife Audrey purchased Valet. Larry has become a leader in the industry and is a past president of the National Closet Group. Larry loves turning people's dreams into reality, and remains as enthusiastic about the business today as he was when he first acquired it. View Larry's Houzz Page.