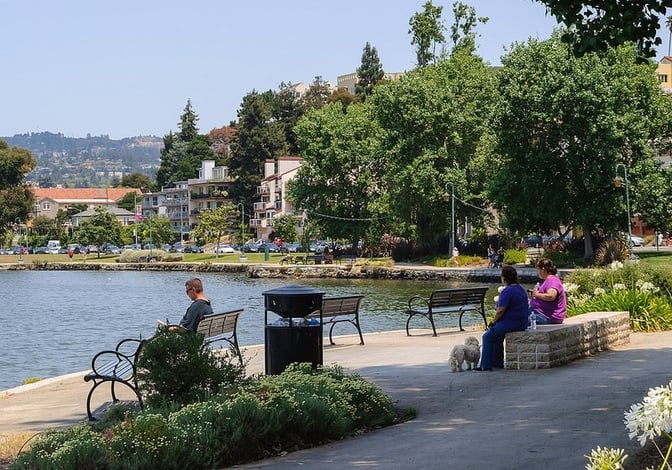 Bay area residents appreciate the natural beauty, and eco-friendly building materials are another way to express appreciation for nature.
Image source: Flickr CC user InSapphoWeTrust
As a long-time California resident, I know about the area's relationship with nature. Around the Bay--and up and down the valley--is a surprising amount of natural beauty along with the beautiful new homes, spectacular redesigns, and architecturally-imaginative new tech headquarters. We don't really care much for sterile office parks (and thankfully many of the tech companies building campuses in the area agree), and we know what we build should complement nature. But we also know that there is no need to sacrifice beauty or design for earth-friendly choices. When it comes to maximizing space, eco-friendly materials go hand-in-hand with smart and elegant design.
There are practical and economic benefits to using eco-friendly materials: benefits which are the same to homeowners rebuilding, redesigning, or remodeling. Professionally-designed cabinetry, closets, garages, and other projects that use eco-friendly materials can help any house save money, last longer, and get a boost in resale value.
Why Eco-Friendly Building Materials Matter
Let's say that you are having a new home office custom-designed and installed. It's going to be a beautiful desk-and-shelf combo, possibly in a cherry color, with its own internal lights so that you can work without wasting electricity by turning on room lights. You could go with any materials, or you could choose eco-friendly materials like the kind we use at Valet Custom. So why go with the eco-friendly choice?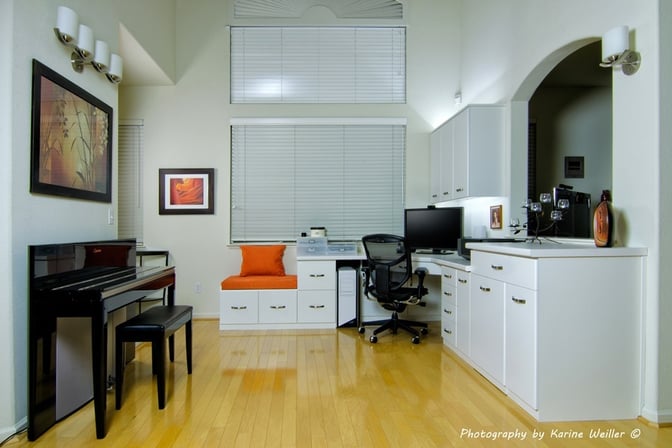 A beautiful integrated desk can be an eco-friendly project.
Image source: Valet Custom Cabinets & Closets
Start with the least tangible, but for some, the most rewarding. There's something great about having a beautiful piece of furniture that is also helping you do your part in treating the environment with respect. It's the best of both worlds; you get to enjoy the beauty and functionality of a well-designed closet or office system without feeling like you're being wasteful (because you're not).
But how does using the right wood help the environment? It starts with recycling. At Valet Custom, 95% of the wood used in our custom shops comes from pre-consumer recycled material. Wood has an amazing shelf life if treated right, and can be strong and sturdy for centuries. We also use primarily FSC-certified sustainable wood products, for a choice that's as green as it is gorgeous. We don't believe that being ecologically-responsible means having to sacrifice beauty or quality.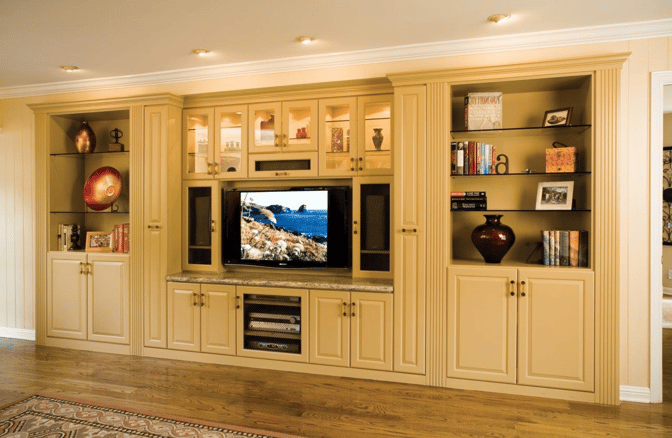 The right wood for the right project.
Image source: Valet Custom Cabinets & Closets
What can come out of wood is just as important as what goes into it. In 2013, strict regulations went into effect across California that regulate the chemical emissions from treated wood. We've always had high standards for emissions, and it was good to see everyone catch up. And today we're careful to use mainly locally-sourced materials from companies based in the US, which means that everything we buy follows the strict California regulations mandating low-or-zero VOC wood.
Take designing your home office to also include a wall bed on one side of the cabinetry. Adding a murphy bed to a room is a wonderful space-saving solution that allows a room to be used for multiple purposes. Our firm commitment to eliminating VOC emissions helps you sleep better at night too.
A beautiful piece, made from low-VOC thermally fused laminate.
Image source: Valet Custom Cabinets & Closets
Here's the big question with the office-bedroom: where do you store your pillows? These are bulky items and tend to occupy a disproportionate amount of your existing storage. Compress them into a headboard storage space for easy access. This surrounding storage space is also an ideal place to use a low-VOC or zero VOC wood, since you don't want your bed linens absorbing any fumes from your furniture. By using woods that meet or exceed California's strict regulations for VOC emissions and bio-based wood adhesives, you're ensuring that where you lay your head is always going to be safe.
Headboard storage lets you store pillows during the day.
Image Source: Valet Custom Cabinets & Closets
Where the wood we use comes from matters, too. Our suppliers largely get their wood from managed forests, which are a sustainable way of making sure that trees are both felled and planted in a smart way that keeps a forest growing by maintaining a steady supply of saplings that will grow into mature trees.
The Economic Impact of Being Eco-Friendly
We're often told that being eco-friendly is a luxury, and an expense that only a few can afford. That's not really the case, though. In many ways, being eco-friendly saves money. We know how having, say, a smart thermostat can lower energy bills--but what about our home office? How will using eco-friendly office materials benefit a consumer's finances?
For one thing, locally-sourced materials save in shipping costs. You might think that you aren't paying for shipping costs, but they are baked into overall costs. Since we manufacture all our cabinets at our location in Campbell, and much of our materials are from local companies, we're able to offer a more flexible, customized design and installation experience, while keeping costs lower. Local manufacturing ensures that your carbon footprint stays low as well.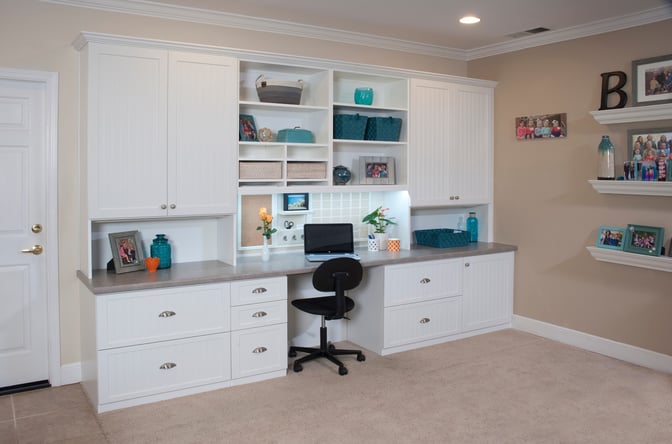 Eco-friendly LED lights along the shelves can help keep energy costs down without sacrificing brightness.
Image Source:
Valet Custom Cabinets & Closets
Other eco-friendly techniques are also great at saving money. We utilize energy efficient LED lighting when we install lights on custom units like closets or cabinetry, instead of using fluorescent or halogen lights. LEDs operate on less energy per month than fluorescents or halogens and last virtually forever. These can save hundreds of dollars over the course of a year, which, multiplied across a house, is a huge saving.
Having an eco-friendly partner in your custom design process means being able to use high-quality products while still treating the earth with respect. It's about doing the right thing for your area, for the planet, and for your wallet. That's a balance we could all use.
If you're looking to redesign your home in a way that is gentle on the environment, get in touch with the Valet Custom Cabinets & Closets design team today, or visit our showroom in Campbell or Danville! We can work with you to create beautiful, earth-friendly closet, office, and organizational solutions that are customized for your home and situation.
---
Valet Custom Cabinets & Closets designs, manufactures and installs custom organizational solutions that enhance the functionality of your living space while complementing the décor of your home.
Our talented design team creates unique solutions tailored to your specific needs, style, and budget. We are independently owned and a direct manufacturer.
Our areas of specialty include Home Offices, Wall Beds, Media Centers, Closets, Pantries, Garage Cabinetry, and much more.
Your Space - Exceptionally Designed - Uniquely Styled - Expertly Crafted
---

About Larry Fox, President



Larry is a graduate of the University of Southern California School Of Business. After receiving his degree he returned to the Bay Area and spent 18 years working in his family's 100+ year old metals recycling business. Upon the sale of that business in 2000, Larry and his wife Audrey purchased Valet. Larry has become a leader in the industry and is a past president of the National Closet Group. Larry loves turning people's dreams into reality, and remains as enthusiastic about the business today as he was when he first acquired it.

View Larry's Houzz Page

.