The economy is different today. When I started working, a college degree was an entryway to a high-level career. Now, a college degree is less an entryway and more a welcome mat. This is especially true here in Silicon Valley. In some cities, like Menlo Park, a Master's Degree is often the starting point if you want a leadership position in one of the area's top tech companies. Nearly 70% of Menlo Park residents have at least a bachelor's degree, making it one of the most educated cities in the country. It's a race just to keep up.
This is true no matter where you are in your career. We know many homeowners who work hectic 60-hour weeks and then study, aiming for a PhD in engineering or another master's in international relations. Most of these people work for companies that fund at least part of their education, so the real challenge is not monetary – it's finding the time and space to study when they also have lives and families.
That's where a custom-designed home office comes in. Getting another post-grad or post-doc degree while working means fitting a comfortable and productive office into your home. And, unlike college, your home might be filled with young kids and lots of noise. (Okay – maybe it isn't much different.) In homes with limited space, this means you need creative solutions and expert design. One day you'll have all the degrees you need, but until then, we're here to help.
Find the Room in Your House and Your Life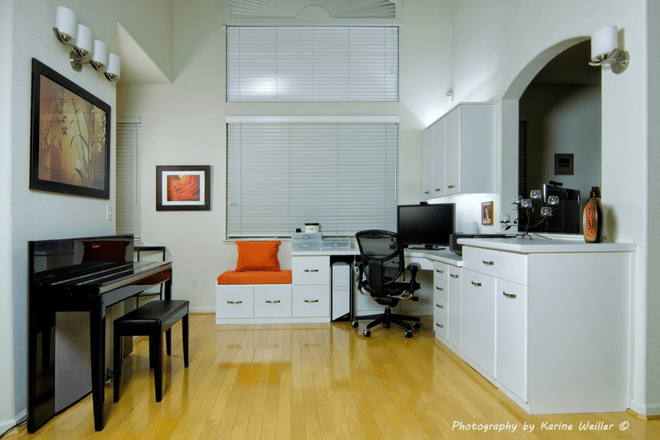 Any space can become an office for a Menlo Park professional.
Image from Valet Custom.
Not every house in Menlo Park has an entire spare room for an office. Especially if you're in the middle of a career and have a family, extra space is often taken up by kids' bedrooms or your spouse's collection of Star Wars memorabilia. But if you want to further your career with more education, you're going to have to find space somewhere.
For one of our clients, we used a living room niche that was essentially an over-wide hallway. It wasn't big enough for a room. As it turned out, the space was just the right size for an office.
We turned one wall into cabinets and shelves, perfect for storing books and papers, and we installed a custom workstation in the corner, fitting it so that our client could easily and comfortably work – and the hallway could still be used by other family members.
Keeping the Home In Home Office
It's a home office, not
the
office.
Image from Valet Custom
A home office doesn't just replicate a corporate work environment. If you wanted that, you could just set up a cubicle. You need a work area that still feels like home.
A good custom design will keep your home life in mind. For example, our client's hallway still had room for her baby piano, and more importantly, we integrated comfortable seating into the functionality of the cabinets, so her kids hang out and talk about their day. It allowed her not to feel isolated from her family despite long hours. Not only that, but she was able to pick a custom finish that matched the rest of the home and use extra cabinet space for household storage.
Graduate to a Custom-Designed Home Offices That Fits Your Real Life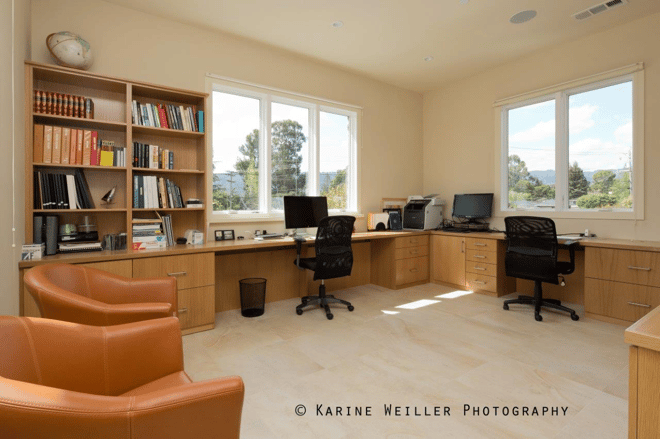 See the next stage of your life in a room with a view.
Image from Valet Custom
For most people, life doesn't follow a straight line of school-then-job-then-retirement. You're furthering your education and continually moving ahead.
But you aren't an undergrad anymore. You've built something successful, and you're striving for even more. Your home office should reflect your professional and personal accomplishments. It should be spacious but fit within your space. It should allow you to be productive – while still being comfortable and beautiful.
It's not easy balancing work, family and advanced schooling. It takes guts, drive, and strength of character. Those are the most important things. But having the right equipment helps immensely, and we can assist with that. Connect with us today for a free consultation, and find out how we can help you earn that next degree.
---
Valet Custom Cabinets & Closets designs, manufactures and installs custom organizational solutions that enhance the functionality of your living space while complementing the décor of your home.
Our talented design team creates unique solutions tailored to your specific needs, style, and budget. We are independently owned and a direct manufacturer.
Our areas of specialty include Home Offices, Wall Beds, Media Centers, Closets, Pantries, Garage Cabinetry, and much more.
Exceptionally Designed & Styled * Expertly Crafted with 5-Star Execution
---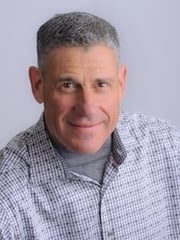 About Larry Fox, President
Larry is a graduate of the University of Southern California School Of Business. After receiving his degree he returned to the Bay Area and spent 18 years working in his family's 100+ year old metals recycling business. Upon the sale of that business in 2000, Larry and his wife Audrey purchased Valet. Larry has become a leader in the industry and is a past president of the National Closet Group. Larry loves turning people's dreams into reality, and remains as enthusiastic about the business today as he was when he first acquired it. View Larry's Houzz Page.